Bhairab Bridge Project, Bangladesh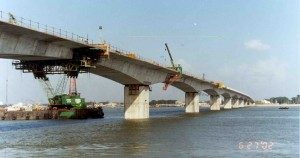 Edmund Nuttall Ltd was the chosen design and build contractor for the Bhairab Bridge project. This will provide a dual carriageway 1.2km long crossing over the Meghna River in Bangladesh.
Among the huge amount of plant required for this undertaking was some of our Colcrete products. Minicol 160SHP High Pressure Grout Pump working alongside a CMP 1152 Colloidal Mixer/Pump unit. The mixers and pumps were of matched capacity which together with an agitated storage tank enabling virtually continuous operation once work has commenced.
The riverbed at the bridge site is made up of silty sand and alluvial deposits up to 40m deep. The unique mixing action of the Colcrete units allow rapid mixing and pumping of grouts containing sand, up to a sand/cement ratio of 4:1 and neat cement grouts with water/cement ratios as low as 0.36:1 without additives, or lower with plasticisers or super plasticisers. The mixing process accelerates hydration and makes a more stable product. Ideal for this application.
The equipment was used to grout the bases of piles 2 metres diameter and some as much as 80 metres deep. The piles, in groups of eight provide the foundations for the bridge.
The high strength colloidally mixed grout was pumped straight down to the pile base through tubes reaching from the pile in the riverbed to the surface. At the pile base a Tube a Manchette type arrangement was used to place the grout below the pile toe.