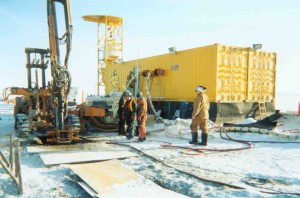 Northern Canada boasts a developing diamond field. Advance Construction Techniques Ltd. (ACT), of Maple, Ontario asked Team (see "Meet the Dealer: Canada" on page 4) to design a self-contained, mobile, automated colloidal grout plant. This one had to be good for 500 below zero!
Team ultimately designed two road-worthy trailers, joined together on-site, and towed as a single, weather-tight unit. Stairs were attached and the bulk-bag tower erected to complete the assembly. The plant was to incorporate two generator sets, two heating systems, air conditioning, a computerized control room, and two Colcrete colloidal mixers. Along with this were several agitation tanks, dust collector, bulk-bag unloader, and pumps.
One Colcrete mixer was to pre-hydrate water and Bentonite and the second was an automated 'Thiessen Tornado', with load cell weighing, and self-cleaning functions. Batching was fully automated with data-acquisition and strip-chart recording. Batching was fully automated with data-acquisition and strip-chart recording.
Diamonds are found in geological formations known as 'kimberlite pipes'. Four such pipes were discovered Northeast of Yellowknife, North West Territories, at Lac de Gras. There are no roads beyond the mine perimeter. Transport here is either by air or, in winter, by driving across the lake on an 'ice bridge', a designated marked route.
The mine, known as Diavik was faced with one other problem. Some diamond-bearing formations were one-third on an Island and the remainder in the lake. The solution was to build a dike or 'berm' out from the shore, circling back to the island. Once grouted, the berm was to hold back the water while the lagoon was pumped out allowing development of an open pit mine.
Team's design was used by ACT to successfully place the 'grout-curtain' in the berm, operating in unbelievable conditions. Because the ice bridge was gone at the completion of work, the plant was flown out in a Hercules Transport aircraft.
While the plant produced high-quality grout, small track-mounted units, developed by ACT, known as 'grout buggies' were positioned above each grout hole. Here an operator was in radio contact with the plant plus telemetry sent data to the plant for both process control and recording. Two grout holes, located outside, nearby, could be grouted simultaneously by the plant.
As part of the mine's daily operation, 'Caribou' (similar to reindeer) advisories were given for the island. Unbelievably, polar bears were not the usual inhabitants of this site, rather their cousins, the equally formidable grizzly bear called this home.
The diamond mine has a capital cost of 1.3 billion dollars and is expected to yield an average 6 million carats per year, at 4 carats per tonne, for twenty years.