Electrifying Performance from Murphy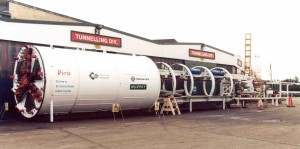 The National Grid awarded the Murphy Group, one of the UK's leading civil engineering firms, a £43.2m contract to construct its new cable tunnel from Elstree to St Johns Wood in London. The 20 km tunnel, running beneath the A5 road, is part of a major project to reinforce the electricity transmission system and meet future demand from London's residential and business communities.
Undertaken using three Lovat full face TBM's, one drive using bolted grouted tunnel rings is supported by two Colcrete Ltd CP1500 Paddle Assisted Colloidal Grout Mixer units which prepare cementitious grout for annulus grouting during the tunnel construction. The work calls for grout to be prepared in batches of up to 1250 litres prior to loading in to grout cars.
Murphy project manager George Jackson says, "We have used equipment from Colcrete Ltd before. It has always performed well and its backup support is very efficient. One thing that really appeals about the equipment is that once it is set up and starts running, you can virtually forget about it as it's very reliable."
The final drive has just been completed. The breakthrough by Lovat TBM 'Caroline' took place at Canons Corner on 12th August marking the completion of her 8km drive from Cricklewood. The installation and commissioning of mechanical and electrical services will be undertaken by Murphy prior to handover to National Grid in the summer of 2003.