South West Water's 'Clean Sweep'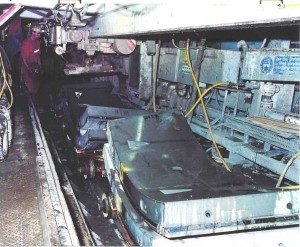 'Clean Sweep' swung into action when South West Water took over as the privatised water and sewerage company for the region and undertook to reverse a century of neglect in waste water treatment.
Most of the sewage from coastal towns was going straight into the seas around the region – but 'Clean Sweep' has seen more than 40 major schemes completed and in most cases now built to revolutionise the way waste water is dealt with in the West country.
Already, more than 200,000 people are benefiting from sewage treatment for the first time thanks to this huge undertaking.
One part of this project is a £63 million contract that is nearing completion, providing the first sewage treatment plant catering for the Torbay area. This part involved around six months of tunnelling a distance of 460 metres through Devonshire Limestone to a blind end for connection to an existing outflow tunnel. Miller Tunnelling took on the task. A Dosco Roadheader TBM was used to construct the 4.25 metre internal diameter tunnel.
Colcrete Ltd supplied the tunnel grouting system to work along with the TBM, and the system was chosen because of the success of the equipment used by Miller on their project in Hull, where Colcrete Ltd previously supplied a fully automatic tunnel grouting system.
The equipment supplied incorporated the synchronized injection of accelerator with the grout, together with the facility for constant pressure grout injection.
David North, the Project Manager for Miller said, "The Colcrete Ltd equipment ran smoothly without giving us any problems. When it comes to grouting plant this is some of the best equipment I've ever used."